ALL YOUTH MOVEMENT
Mt. Zion and Mt. Olive have started a new movement for community youth.
THE ALL YOUTH MOVEMENT WILL RESUME MEETINGS IN JUNE
(DATE & LOCATION TBA)
Our vision is to help children transition into the best versions of themselves spiritually, interpersonally, and physically as they approach young adult life with complete confidence and understanding of who they are.

If you or your organization would like more information about AYM,
call Henry Gilmore III at 980-404-1185.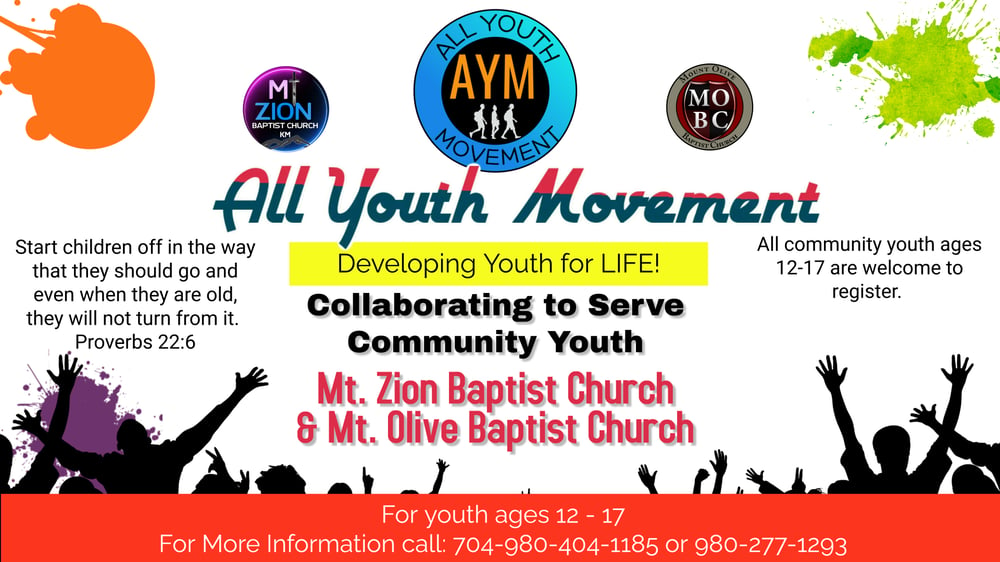 Zion Fitness
Line Dancing on Tuesday nights at 6 pm

Exercise can help reduce the risk of chronic diseases such as heart disease and diabetes and can also improve mood, cognitive function, and overall quality of life. You can burn approximately 300 calories in one-half hour, and it doesn't even feel like exercise!

We seek folk who want to play pickleball. If you are interested, reach out to us at (980)404-1185.

Our History
Mt. Zion Baptist Church
220 N. Watterson Street, Kings Mountain, NC 28086
1880
First church built
Located on Piedmont Ave., across from the Kings Mountain Herald building. The pastor was the late Rev. R.L. Veal.
1926
Relocated to King Street
Pastors were the late Rev. Mitchell, Rev. Shaw, Rev. Hartgrove, Rev. Means, Rev. Neely, Rev. Taylor, Rev. Lorray, Rev. Sanders, Rev. Murray, Rev. Davidson, Rev. Garvin, and Rev. J. S. Norris.
October 7, 1973
Groundbreaking for new church, 220 N. Watterson St.
Pastor was the late Rev. J. S. Norris.
November 3, 1974
March from the old church to the new Building
The pastor was Rev. Norris, followed by Rev. E.E. Harris, Rev. D.W. Whittenburg, Rev. J.S. Littlejohn, Rev. Clinton A. Feemster, Rev. Raymond Gardin, Interim Pastor, O.T. Tomes, and Rev. Anthony Sanders..
1986 - 2011
Rev. Clinton Feemster
Pastor
2014-2015
Rev. Ray Gardin
Pastor
2014-2016
Rev. O.T.Tomes
Interim Pastor
2016
Rev. Anthony Sanders
Pastor
2017-2019
Rev. O.T. Tomes
Interim Pastor
February, 2019
Pastor Leslie S. Davis
Current Senior Pastor Leslie S. Davis